In recent years, wooden railway sleepers have become a very popular addition to the modern garden. With a wide variety of possibilities for their use, including edging, garden paths, retaining walls, and raised flower beds to name a few, it isn't hard to see why their popularity has increased…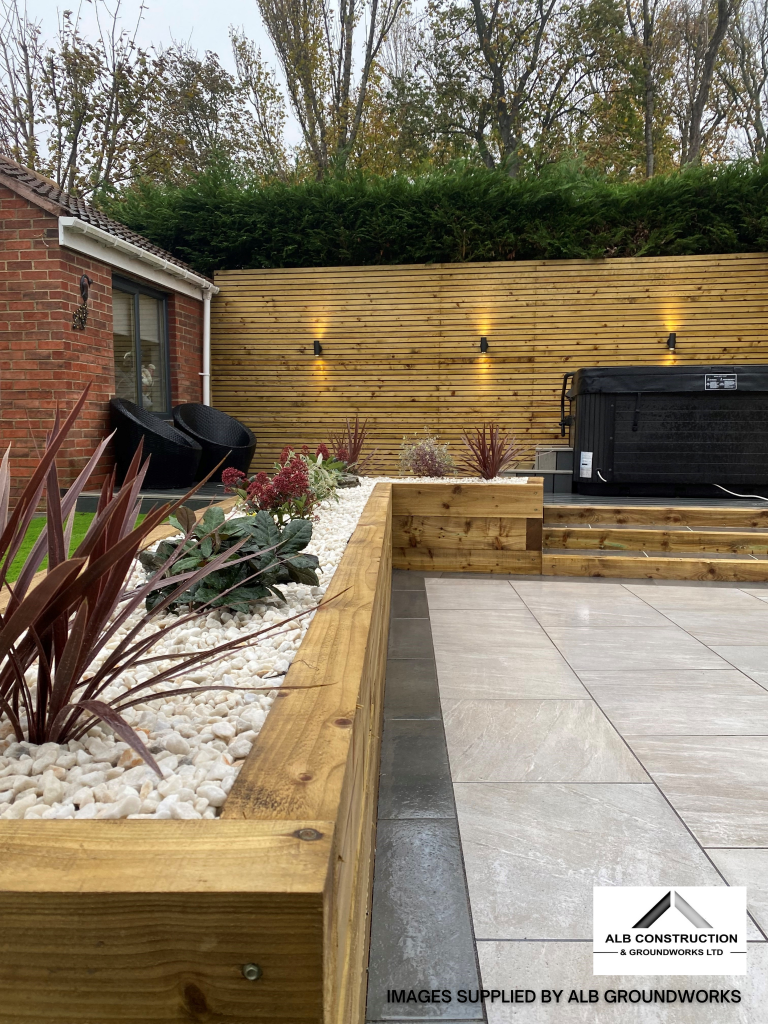 Why Choose Wooden Railway Sleepers?
Wood has been the primary material used to make railway sleepers for nearly two centuries, so it's hardly surprising that wooden railway sleepers are still the most commonly used for railroad tracks worldwide, particularly in the US, where nearly 16 million wooden sleepers are laid every year. The natural properties of wood are well suited to producing a resilient track with excellent load bearing properties, as well as offering noise and vibration reduction as trains roll over them. Most commonly, hardwoods such as oak are used to make sleepers, but some softwood varieties are used for sleepers on lighter, less busy railway lines.
In regard to using wooden sleepers in the garden, it is more about the way they look than their other properties (although cost effectiveness is always a consideration). There is a certain rustic quality that wooden railway sleepers possess, which adds a certain unmistakable element to the modern garden that currently has the nation captivated, with an increasing number of UK homeowners adding them to their gardens every day.
Sleeper Sizes
The most common length for railway sleepers is 2.4 metres or 8ft long. The most common width is 200mm or 8″.And the most common thickness is 100mm or 4″.
We can cut your railway sleepers to a size that suits, this service is available for a small fee of £2.00 per cut ex VAT.
Treated or Untreated?
Wooden railway sleepers can usually be found in one of three conditions: untreated, pressure treated ("tanalised") or coated with Creosote.
Used untreated railway sleepers are the most common. While aesthetically appealing, they may occasionally have deposits of oil or diesel on the surface which have fallen from passing trains over the years and, while seemingly "untreated", may actually contain tar or Creosote inside the wood itself from an original treatment many years ago. Railway sleepers were often coated in Creosote in order to protect them from the elements and from insect infestation. Creosote also extends the life of wood but it is hazardous to the environment. While surface oil or diesel can be cleaned off easily enough, in the heat of the sun any tar or Creosote inside the timber may seep out, leaving a sticky mess that can't be permanently removed. This is a definite consideration when using used railway sleepers in your garden. If in doubt, always purchase new treated sleepers for peace of mind.
Green treated or "tanalised" railway sleepers are coated in environmentally friendly, non-Creosote based preservatives, such as ACQ or Tanalith E, which are safe to use and suitable for all garden landscaping projects, making them a wise choice for your garden. We also offer a Brown tanatone railway Sleeper which has been treated in the same way but a dye has been added.
Need Help From An Expert?
For more information about railway sleepers, there fixings or their uses, contact one of our team experts who are always on hand to help with your project advice and product recommendations or give us a call on 0113 418 0524.